As businesses shift towards an increasingly digital marketplace, having a website is becoming a requirement for success. With the increase in website traffic comes a greater demand for customer support. This is where AI chatbots come in. These chatbots provide 24/7 customer support to website visitors and can be programmed to answer common customer queries.
In this article, we will be discussing the best AI chatbot software for WordPress websites.
What are AI Chatbots
AI chatbots are computer programs that can communicate with humans through text or voice. These chatbots can answer common customer queries, provide assistance, and offer personalized recommendations.
Importance of AI Chatbot on WordPress Website
WordPress is one of the most popular website builders on the market. It is estimated that over 43% of all websites on the internet are built on WordPress. With the increase in website traffic, it's essential to provide excellent customer support. AI chatbots can help provide 24/7 support to visitors, improving customer satisfaction.
Benefits of Best AI Chatbot Software
24/7 availability
Faster response times
Personalized recommendations
Cost-effective
Improved customer satisfaction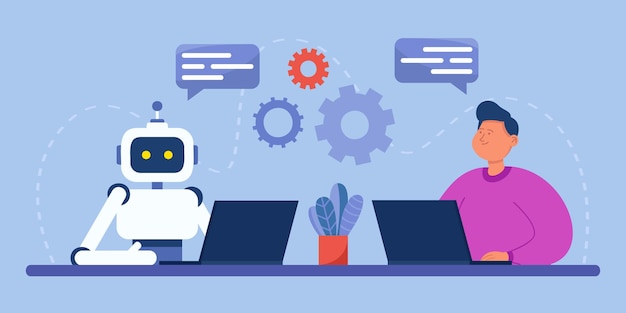 Top AI Chatbots Software for WordPress Website
Chatbots are becoming increasingly popular on websites due to their ability to provide quick and efficient customer support, engage with visitors, and increase conversions. These AI-powered tools are especially useful for WordPress websites, which can benefit from the added functionality and interactivity. In this article, we'll explore the top free AI chatbot software options for WordPress websites.
Importance of Chatbots on WordPress Websites:
Best Chatbot WordPress offers several benefits to websites, including increased engagement, improved customer service, and cost-effectiveness. By providing visitors with an interactive experience, chatbots can keep them engaged for longer and encourage them to explore more of the website. Additionally, chatbots can handle common customer service queries, freeing up staff time and improving response times.
Finally, chatbots are often more cost-effective than hiring additional staff or outsourcing customer service.
1. WP-Chatbot by MobileMonkey
WP-Chatbot by MobileMonkey is one of the best wordpress chatbot also known as Customers AI Chatbot is a chatbot builder designed specifically for WordPress websites. It offers a user-friendly interface that allows businesses to create chatbots without any coding experience. This is one of the Best AI Chatbots Software. The chatbot builder comes with several features such as a drag-and-drop chatbot builder, automated message sequencing, customizable templates, and integrations with popular tools like Facebook Messenger, SMS, and Slack.
Benefits
The benefits of WP-Chatbot by MobileMonkey include increased engagement with customers, personalized conversations, increased conversions, and reduced customer support costs. It also offers:
Multi-Channel Chatbot Tools
Web Chat Tools
SMS Marketing Tools
OmniChat Marketing Mobile App
Website Chatbots
Facebook Messenger Website Chat Widget
WordPress Chatbot Plugin
Q&A Triggers
Chat Forms
Pricing plans of WP-Chatbot
WP-Chatbot by MobileMonkey offers different pricing plans, including a free plan and different plans for marketers and sales and creators and coaches plan.
2. Tars Chatbot Builder
Tars Chatbot Builder is top of the best wordpress ai chatbot also known as hellotars is a chatbot builder that allows businesses to create conversational landing pages and conversational workflows. The chatbot builder offers a drag-and-drop interface, custom templates, integrations with popular tools like Zapier, and A/B testing capabilities.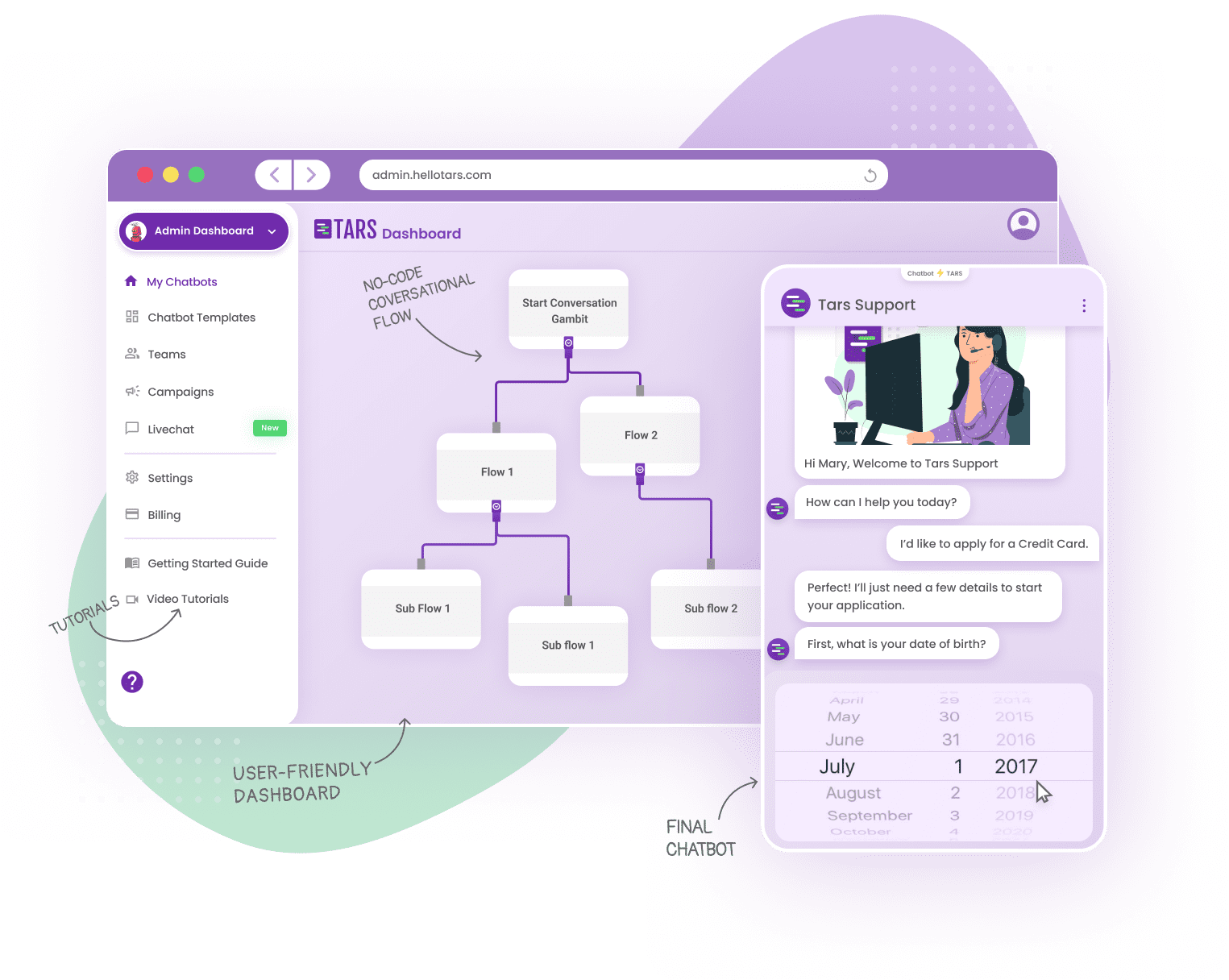 Benefits
The benefits of Tars Chatbot Builder include increased lead generation, personalized experiences, and improved customer engagement. This AI Chatbot offers:
Automate Conversations
Transfer to Livechat
Re-Engage with Campaigns
Leverage Analytics
Omnichannel Support
Pricing
Tars Chatbot Builder offers 3 pricing plans called Basic, Standard and Suite. You can schedule a demo to get more information about pricing and its features.
3. Botsify
Botsify is a chatbot builder that allows businesses to create chatbots for websites, Facebook Messenger, WhatsApp, and other popular messaging platforms. Botsify offers a drag-and-drop interface, integrations with popular tools like Shopify and Zapier, and AI-powered natural language processing.
Features
The benefits of Botsify include personalized experiences, increased customer engagement, and reduced customer support costs. It is suitable for:
Automate your sales processes
Perfect your customer support
Power up your marketing
Smoothen your customer journey
Skyrocket your Revenue Growth
Pricing
It has two pricing plans. 1st plan starts from $49/month that includes 2 chatbots, 5k users and unlimited conversation. And its 2nd plan is starting from $149 per month that offers 5 chatbots with unlimited users and conversations.
4. Acobot
Acobot is an AI-powered Best AI Chatbots Software that helps businesses automate their customer service and sales operations.
Features
Here are some of the features and benefits of Acobot:
Easy Integration: Acobot can be easily integrated into various platforms, including websites, social media pages, and messaging apps.
Personalization: Acobot can be customized to suit your business needs, making it easier to provide personalized customer service to your clients.
Automated Lead Generation: Acobot can automatically generate leads for your business by engaging with customers and collecting their contact information.
24/7 Availability: Acobot is available 24/7, allowing you to provide round-the-clock customer support to your clients.
Cost-Effective: Acobot is a cost-effective solution compared to hiring additional customer support staff.
Pricing plans of Acobot
Acobot offers various pricing plans, starting from a free plan up to an enterprise plan. Here are the details of their pricing plans:
The free Plan includes unlimited access but only for testing purposes
Its 2nd small business plan starts from $7.2 per month and offers unlimited interactions.
5. BotStar
BotStar is packed with features that allow you to create powerful chatbots that can handle a wide range of customer service tasks. It is a complete and affordable AI chatbot platform that makes it easy to build, develop, and refine an automated system to tackle queries and generate leads.
Features
Here are some of the key features and benefits of BotStar.
Easy-to-Use Interface – BotStar's user-friendly interface makes it easy to create and customize chatbots without any coding knowledge. Its drag-and-drop interface allows you to add elements such as text, images, and buttons with ease.
Multi-Channel Support – BotStar supports a wide range of channels, including Facebook Messenger, WhatsApp, Slack, and more. This means that you can engage with your customers on the channels they prefer.
AI-Powered – BotStar's chatbots are powered by artificial intelligence, which means they can understand natural language and provide personalized responses to your customers.
Customizable Templates – BotStar offers a range of customizable templates that allow you to create chatbots for various industries, such as e-commerce, healthcare, and more.
Analytics and Reporting – BotStar provides detailed analytics and reporting, allowing you to track the performance of your chatbots and optimize them for better results.
Pricing plans of BotStar
BotStar offers a range of pricing plans to suit businesses of all sizes. Here are the pricing plans currently offered by BotStar:
Free Plan – The Free Plan allows you to create 3 Bot Projects with basic features and 50 Monthly Sessions. However, it comes with limited support and branding.
Pro Plan – The Starter Plan costs $15 per month and includes all the features of the Free Plan, along with additional features such as custom branding and multi-language support with Unlimited Bot Projects and 500 Monthly Sessions.
Overall, BotStar is a powerful and user-friendly chatbot platform that allows businesses of all sizes to create intelligent and personalized chatbots without any coding knowledge. Its range of features and customizable templates, along with its affordable pricing plans, make it a top choice for businesses looking to automate their customer service and engage with their customers 24/7. With positive customer reviews and ratings, BotStar is definitely worth considering if you're looking for an effective way to improve your customer service and engagement.
Learn more about how to choose the perfect AI chatbot for your website.
Ending Remarks
In conclusion, implementing an AI chatbot on your WordPress website can have numerous benefits, from improving customer engagement to boosting conversions. By choosing one of the best AI chatbot software options we've explored in this article, you can automate your customer support and provide a seamless user experience for your website visitors.
Remember to consider the features, pricing, and benefits of each option before making your decision. Good luck on your chatbot journey!